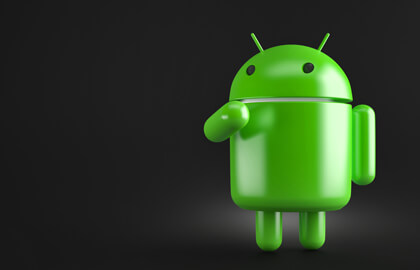 Android Application development is the process by which new applications created for running the Android operating system. Android Development services cover both mobile application development and web application development. Android is now a well-known word in the market and makes your customers more engaging.
With the best and unique design of your Android apps, you can easily engage more customers to your websites and earn the profit. Website and apps are now known as the face of the company and how the company represent themselves. You can now also represents your company and also your work by representing your websites and apps.
KBK Business Solution is one of the most leading mobile application development companies in Hyderabad that always develops the best and unique apps for its customers using the latest technology. We develop apps for Android that are loaded with user-friendly features and under optimum cost. We will be in constant touch with you from testing and support to end mobile app development services in India.
KBK Business is an android app development company in Hyderabad and is known all over the country because of its best Android app developers that assist in every way of completing your project, such as the following:
Thoroughly understands the clients need as well the customers need.
Research on field of wanted application.
Ensures that deliverables meet your expectation
Delivers a reliable product that appeals to the platform users.
Work with latest and future technology to cope you up with the word.
It is necessary that we are ensured about what kind of application they are looking for and what all they want in their website to look it attractive and engaging simultaneously. Our team specialist in android app development works on different languages like Java, Kotlin, JavaScript, XML and more.
We have set our bars higher for our Android application development services, and our team regularly update themselves and their knowledge on all the platform's databases, application, latest technology, tools, solutions, languages, and new features.
What do we provide as Android Application Develop?
UI/ UX Design
Support and Maintenance
Integration
Native App Development
Hybrid App Development
Consultation
We offer our Android Development services to building websites and mobile apps for Android software.
Why Choose Us?
At KBK Business solution, we always consult customer if they are not sure what they are looking for, and helps in getting them the best in a way to innovate their business and their applications. We use a unique analytical approach to recognise the trend and opportunities in the market to make their business better.
We work with clients even after the project is complete as we believe in quality, dedication, innovation, awareness and communication. We treat our clients are like our family, and we discuss every little aspect they need and what we can deliver to them.