Software and digital media are intertwined now in business. Small business and large enterprises rely and trust software and digital marketing for progress and growth in business. Now, you know how Artificial Intelligence and Big Data are helping businesses in decision making with the valuable data of CX and UX. Web application development is one such area where software joins with digital marketing to produce massively successful results.
Web application development company develops web-based applications which are a specific type of software that allows users to interact with a remote server through a web browser interface.
Examples of web applications are –
AliExpress – it is a popular e-commerce site owned by the Alibaba Group
Twitter Lite – Twitter Lite is a progressive Web App and it gives a default mobile web experience for all users globally
Flipkart – One of India's leading B2C e-commerce websites is producing amazing results by adapting a progressive web app that adds new web development features and technology.
Forbes – Forbes is a top U.S. business magazine and recently developed a progressive web app to improve its mobile web user experience. The magazine has excellent informative articles on finance, marketing, investment industry topics.
Web Application Development Company in Hyderabad
Mobile App Development Services in Hyderabad
Mobile Application Development Companies in Hyderabad
Android app development company in Hyderabad
Android Application Development Services
Web application development company in Hyderabad is also working on messaging platforms which are Chatbots emerging as a new trend now and they are recognized as the next version of apps.
Facebook's popular messenger is a huge success giving both businesses and users to exchange communication through different APIs, "Chatbots" is the big buzz now and many ask what are Chatbots and how do they work?
About Chatbot design and use
Chatbots are a simple design of artificial intelligence systems that communicate via text / voice as interface. Aimed primarily to communicate as a customer service and support, the interactions are very simple, like asking about a product, a report, a troubleshoot problem or any other.
Chatbots actually represent the human or personal assistant communication system. Some of the major chat applications are Facebook Messenger, Slack, Telegram, Text Messages etc.,
The main purpose is that these chatbots are an easy way to find anything that you look for without having to do a web search or open up multiple apps. Like for example – instead of calling a taxi from Uber app, you receive a call directly from Facebook messenger bot.
Different types of Chatbots
Mobile App Development Services in Hyderabad
Mobile Application Development Companies in Hyderabad
Android app development company in Hyderabad
Android Application Development Services
Couple of chatbot examples are –
Mobile app development services in Hyderabad have highly top qualified Chatbot design engineers who are capable of designing any model and type of Chatbots to ideally fit in your business, organization, or any other commercial activity.
As customers reach widely for every kind of assistance online, every type of business is in need of Chatbots and to quote some of these –
Healthcare Bots
Food Bots
Bank and Trading Bots
HR and Operational Bots
News Bots
Customer Service Bots
There are endless solutions with Bots and they work very efficiently. They lessen the manual work of humans and these are very agile to work with.
Chatbots – Are they intelligent?
This question appears most commonly – can chatbots answer just as humans do? Yes, that's true. But they are not intelligent by themselves, but they become when humans make them do.
Chatbots work with keywords.
Type your question that has some keywords and chatbot answers your question with input it received. It has a predefined ready response.
For example – if a user sends a text message about "mobile". The chatbot will immediately ask "which is the model of your mobile phone?" or "what brand is your mobile phone?"
These responses convey that Chatbot clearly understands your input based on the keyword and it has Android app development company in Hyderabad
Android Application Development Services works on a predefined pattern set of libraries and APIs appended to Chatbot and accordingly it acts.
Conclusion
Android Application Development Services build pattern-matching, but Chatbot work as humans and respond intelligently to help and resolve the queries of users.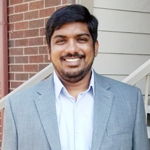 Name: Bharath Kakkireni
Director – KBK Business Solutions
Bharat Kakkireni is a passionate software developer and engineer with over a decade of experience both in India and the U.S. He has been working on many multifaceted IT projects helping local businesses and also collaborates with MNCs in developing software projects. He's an active team leader in KBK solutions. He imparts training, mentoring, and leads teams towards high end efficient working systems. Bharat keeps himself busy in reading, writing and Internet marketing.