PHP acronym is for Hypertext Preprocessor most actively used for building dynamic website, static website, and web applications and this can be efficiently designed by a PHP web application development company.
#1. Why PHP is a First Choice?
For PHP website developers, PHP provides effective and simple scripting language to build any application or design. With wide range of options, PHP web development services run on platforms like Windows, Mac OS, Linux etc. and it is also very compatible with servers and supports a wide range of databases. Developers prefer PHP development services in Hyderabad instead of other platforms as it runs very effectively on the server-side. PHP codes run on the server-side and returned as plain HTML towards the browser.
#2. Quick & Easy Designs
Custom PHP web application development saves a lot of time and works with ease and flexibility. PHP website developers find it so easy to start working on coding and PHP frameworks make it so much easier to develop and design without much efforts. The availability of PHP frameworks though gives a lot of choice, it is important to choose the right framework that suits best for your success in web designing.
#3. Understanding PHP Framework
Used most often by PHP website development companies, to build a website or web application, it is required to have a platform to run code. PHP provides these platforms, but since these are sometimes quite time consuming tasks, PHP frameworks take the role of web platform.
PHP Framework provides a simple and effective platform to develop a web application. Not only fast coding process, but it also allows to build rapid applications.
Without the convenience of PHP Framework, it would be a difficult process to take up repeated coding and also increased workloads. Building a.connection with PHP framework is much faster.
#4. Principles to Choose PHP Framework
PHP website development services enables to work with simplified process of PHP framework. It offers some of the top benefits like
– Empower customer web design and application development
– Provides simple web application maintenance
– Reduce the work of redundant coding work
– Work with any type of database more effectively
– Take up unit testing easily and efficiently
While considering all the factors – the following features found to be important to choose a Framework.
1. Database Support
Database being most important for PHP web application development company for developing any application, it is ideal to choose a Framework that supports different databases and its type.
2. Community Support
A strong community can help you to solve your doubts whenever you need it. Therefore look for Framework that offers a highly impactful support.
3. Documentation Support
When a Framework offers you strong documentation support such as user guides, library, and tutorials to follow, it will make your work more gast and convenient.
4. Primary Goals
E-commerce website, blog, social media platform or business website, make a comparison with your goals with Framework features. Choose a PHP Framework which reflects with these goals that provides all the necessary requirements and functions.
5. Architecture
Architecture that contains libraries, plugins, helpers, extensions in the Framework is considered to be most ideal for use.
#5. Why choose Laravel – PHP Web Application Development Company
Larvel is the best and popular PHP Frameworks. It provides some of the best geatures that speeds up the project and it also allows website and app development company to use these useful features to customize app depending on the requirements of data migration, security, and MBC architecture support.
PHP website development companies also find Laravel framework as a reliable and robust source to build secure web development. It provides a faster pace than any other framework and simplifies PHP web development services.
Conclusion
KBK business solutions is one such reliable source for building very efficient PHP web application development company that uses Laravel Framework most efficiently in the use of PHP web development services. Recognized as one of the best PHP development services in Hyderabad, it gives a great convenience to design and develop some of the best PHP web development services for launching websites and web applications. Choosing their services can deliver the best work with development of Laravel Framework applications.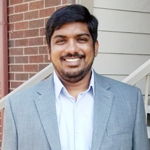 Name: Bharath Kakkireni
Director – KBK Business Solutions
Bharat Kakkireni is a passionate software developer and engineer with over a decade of experience both in India and the U.S. He has been working on many multifaceted IT projects helping local businesses and also collaborates with MNCs in developing software projects. He's an active team leader in KBK solutions. He imparts training, mentoring, and leads teams towards high end efficient working systems. Bharat keeps himself busy in reading, writing and Internet marketing.