Would you like to know what happens in a minute on Google search engine? Google receives nearly 3.8 million searches per minute. That is 228 million searches per hour. There are nearly 5.6 billion searches per day and 2 trillion searches per year.
Finally, 63,000 searches occur per second.
Staggering stats. Right?
Search queries in Google occur with a purpose and need.
Google considers nearly 200 factors before delivering the best results to any query in a fraction of a second.
This gives out a fact that there is emphasis on efficiency, accuracy and reliability. This is most important.
Data and content are the most crucial to answer search queries and it consists of content that comes as an answer to short-form and long-form search queries. Therefore, the flow of content is rapid as new search queries keep getting added.
As of June 2019, there were more than 4.5 billion people online and nearly 80% of digital content is not available in nine out of every ten languages. It is estimated that by 2025, there would be 75billion Internet -of-Things (IoT) devices in the world and by 2030, nine out of every ten people aged six and above would be digitally active.
Content is the Primary Source
Witnessing the above overwhelming stats, you know how digital companies in Hyderabad play a pivotal role in digital content. As new and advanced technologies emerge for the benefit of audiences and businesses, there are more efficient and effective digital marketing agency services and this is most important for the businesses to be visible, active and profitable through content marketing and content publishing.
When it comes to the aspect of content, you know how valuable it is for a business. From social media to blogs and websites, content is the medium through which a business is visible online.
Audiences find content as one of the best mediums to view, read, review and shop online.
Did you know how much content is published everyday? According to WordPress, users produce more than 70 million new posts each month and nearly 2.75 million posts are published each day. Additionally, 77 million comments are posted in live discussions. An average blog post is 1150 words., but the average time spent on blog posts is only 16 seconds.
The significance of original content
Can you create fresh flow of content that is absolutely unique and 100% interesting? This is apparent when the audience read your content.
They like, share, comment and subscribe to your source.
The interaction with published content often signifies that the published content has good quality and much appreciated by the audience.
As long as you make it unique and freshly flowing, you are absolutely safe as your content receives good ratings, interacting, engagement and much more.
Content is indexed and search-engine ranked
It receives not only search engine ranking, but it is also indexed.
Indexing occurs on some of the approving-factors such as long-form of content, audience-clicks, views, interaction and when they find it more useful on the genuine quality of content.
What about duplicate-content?
Digital marketing agency in Hyderabad makes its undaunted efforts in maintaining the quality of content. This being the most important aspect, best digital marketing company in Hyderabad, ensures to make it absolutely 100% unique content in every type of content, to enable that content to be accepted and approved.
Sometimes there are technical content aspects that a writer has to read and discuss, therefore, at that time, it becomes necessary for the best digital marketing company in Hyderabad.
But did you know that search engines do not accept duplicate content and it will certainly lower search engine ranking. The perfect meaning of duplicate content – the same content appears in more than one source.
It is absolutely agreeable that though duplicate content does not levy any penalty, it does impact search engine rankings.
Further it also becomes a difficult task for search engines to decide which version is more relevant.
Conclusion
Digital marketing service provider in Hyderabad ensures to deliver 100% unique and fast content services for businesses. This also comes with an additional benefit of being identified as the best digital marketing company in Hyderabad.
As digital marketing companies continue to rely on publishing unique and new form of content publishing, the benefits continue to grow and the losses caused by duplicate content is lessened.
Certainly, practicing good quality content is definitely recommended by digital marketing agency services.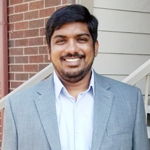 Name: Bharath Kakkireni
Director – KBK Business Solutions
Bharat Kakkireni is a passionate software developer and engineer with over a decade of experience both in India and the U.S. He has been working on many multifaceted IT projects helping local businesses and also collaborates with MNCs in developing software projects. He's an active team leader in KBK solutions. He imparts training, mentoring, and leads teams towards high end efficient working systems. Bharat keeps himself busy in reading, writing and Internet marketing.