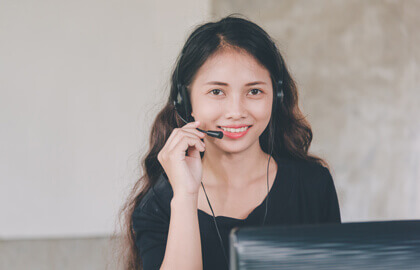 What exactly is BPO Now?
In a world that is globally connected now with Internet businesses, efficiency plays a pivotal role. It has also given much scope for smart innovation processes. Introducing modern process management techniques can make your business from good to great and BPO services can enable such change when done carefully with conscientious effort and manner. To achieve multiple benefits such as these, you need a quality vendor.
BPO vendors extend full support to your business by undertaking specific work processes and these span from payroll, accounting, telemarketing, data recording, social media marketing, customer support and much more.
Not being supplementary, Business process outsourcing services could be either technical or non-technical. Today is the time of complex economic fluctuations, increasing competition with evolving technology and higher customers' expectations. So it is important that businesses deliver the committed quality of service to their customers.
From Fortune 500 to budding startups, every size of business now begins to outsource its work due to multiple benefits of reduced costs, quick turnaround, quick access to workforce and quality focused work with efficiency. How Does it Help Your Business?
Why we are offering BPO Services?
KBK Solutions is one of the best BPO service providers and believes in sincerity and professionalism. We help businesses to deliver quality services with the help of our professional and expert staff which provides sourcing options to meet a client's and customers' unique needs. We make sure that without any failure, we provide optimum customer experience in a cost effective way.
It is must for a business these days that they innovate, manage risks and information. This is what our talented workforce understands and to deliver high-value solutions to the clients, we strategise accordingly and help them become more agile in their business to further assist their customers.
With exceedingly good growth in entrepreneurial businesses across many countries, the demand for business process outsourcing services continue to grow. Hiring local BPO staff and getting the speedy works done and utilizing skills brings some of the finest benefits always.
As we found continuous growing demand, we have decided to keep BPO services as our main service line categorized into two types. The first as back office and front office. In regard to back office services include internal business processes, such as billing and purchasing and the front-office services are about contracting company's customers, such as marketing and tech support. These two types of services can be combined so that they work together.
As one of the top BPO company in India we found that BPO industry is divided into three categories, based on the location of the vendor.
Offshore : Vendors are located outside of company's own country.
Nearshore : Vendors are located in countries in neighboring frontiers to easily access and communicate with the nearshore vendor.
Onshore: Vendors operate within the same country as the contractor even though they may be located in a different city or state.
What are the Key Benefits?
Why there's a need of BPO service firms? Not only to access high-end skill and save costs on hiring procedure, but also to get tax cuts. There are many governing laws in various countries that offer tax break for migrating work to other countries. This is the main source of benefit that attracts many companies to hire the services of BPO service provider.
It reduces the redundancy of work and upholds the overall performance of your organization. As most of the work is shared at BPO firm, you will notice a lot of productivity.
Other benefits include :
Decreased costs: Outsourcing substantially reduces costs for in-house labor, specifically in staffing, training and for the work space to accommodate local employees.
Focus on key functions: BPO service company allows businesses to hone their main offerings instead of company functions that are not directly related to the core processes. This gives a competitive advantage and enhances interactions with the value chain.
To achieve better results: BPO service provider helps with specialized processes and technologies that can deliver cutting-edge breakthroughs for its clients.
To expand global presence : Leverage presence in multiple countries and reduce the redundancy
To enable flexibility : Introduce new products and services while managing risks.
To improve speed and efficiency : Specialists handling tasks makes it much more easier thereby saving time, improving accuracy and increasing their capacity.
List of BPO Services
Our exclusive BPO services :
Inbound Call Support: Exclusive to customer service and support, customers receive excellent service for their complaints and requests.
Outbound Call Support : Reach customers for call backs or answering emails or responding to chat for a call back.
Chat Support: Helping customers to find products, voice mail services, surveys, payment processing, warranty administration, order processing, telemarketing and customer feedback.
Technical Support: This includes service desk analyst, production support analyst and IT analyst.
Development Support: Application development, testing, implementation services and IT helpdesk.
Recruitment Process Outsourcing : Payroll services, recruitment, workforce training,insurance processing and retirement benefits.
Why Choose us?
KBK Solutions is one of the best BPO service providers and trust in working with top acumen and professional environment. We help businesses to deliver quality services with our talented team and staff who come up with various sourcing options to meet the needs of clients and customers. We make + sure that without any interruptions, we provide optimum customer experience in a cost effective way.
It is also a business practice these days to innovate, manage risk and safeguard information. This is where we exactly make a difference by understanding the prioritized needs of our clients and deploy skilled workforce to deliver high-value solutions. We strategize to help them become more agile in their business to further assist their customers.
Projected at $140.33 billion by 2022, there is a steady growth of 4.4 percent annually. India particularly being a leader in BPO for U.S. due to its highly skilled educated, English-speaking and economical, many other countries are choosing BPO service provider India.