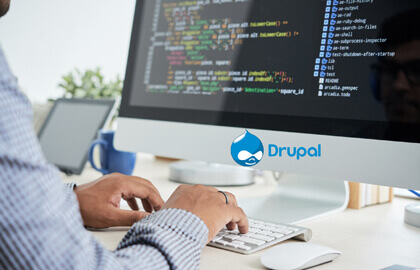 Drupal is known as the no 1 platform for web content management among global enterprises, governments, higher education institutions, and NGOs. It is highly Flexible and highly scalable, Drupal is well known for publishing a single or more than a single web site or shares content in multiple languages across many devices and written in programming language PHP.
Most of the Technology and business leaders transform content management into robust digital solutions with the help Drupal technology backed by one of the world's most innovative open source communities.
KBK Business Solutions leverage Drupal enterprise framework to effortlessly integrate numerous web interfaces and latest web technologies. Here we combine substantial domain experience, technical expertise, and in-depth knowledge of Drupal technology trends to successfully implemented projects for client's right from start-ups to enterprise.
KBK Business Solution has a team of Drupal development experts who work with our clients, and they have a different way of working, such as follows:
Research, Plan and Consultation:
In-Depth Market Research for competitor analysis
To discover what clients precisely wants
Planning a unique website.
Design and Create:
Conceptual design plan
Usability Test
Create Design
Development and Analysis:
To Develop Database followed by the site development
Analysis, modification, & Testing If required
Implementation & Maintenance
Website Launch
Integrate updates
Maintain performance regularly
Features enable by Drupal:
Content Management Systems
Computerising of the administrative tasks
Managing site guests and contributors
Peer to Peer networking
Discussion Forums
Newsletters
Broadcasting
Picture Galleries
Downloading and Uploading Files
View Personal Profile
Present users with an interface in their local language
Apply access rules deny site access to specified user names, e-mail addresses, and IP addresses
Presents statistics and reports to administrators
Building multi-level menus
Manage to cache and to throttle to improve how a site performs in heavy traffic
What do we offer as Drupal Developer?
Custom Design, Template and Theme Development
Design Integration
Custom Modules Development
Module Installation
Blocks Development
Client specific custom modification and customisation
Drupal Website Maintenance
Why Choose Us?
KBK Business Solution has a team of Dedicated and talented Drupal developers with the right skills and experience. They keep themselves updated with knowledge of latest technology, platforms, business and market. We always commit you to deliver your project on time, meeting all requirements and needs, and we deliver you the project that innovates your business in different ways and builds mutual trust amongst us.
At KBK, our team prepares systematic documentation of the project to share accurate information with clients. We leave no stones unturned in delivering your project with efficiency. Our team have constant communication and report everything related to the project at all stages, from starting raw to delivering your needs. We also technically support you even after the website launch.