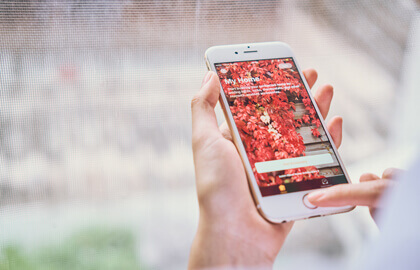 iOS is now famous amongst people because of their secured operating system. iOS applications are the best use for business and also consider helpful for them. iOS works on iPhone devices that are compatible with each other.
KBK Business Solution is an iOS development company that provide services covering the entire development cycle, from consulting, UX/UI design, development and product strategy to distribution. We design custom apps for all the range of iOS devices, including iPad and iPhone app development.
Highlighting our track record of success, if we talk about our track record of success, we have a team of specialist that provides iOS development to some of the leading and successful brands which ranked top in iOS apps.
KBK Business Solution packed with a whole team of iOS development, and all are specialist in their field, they work with the client in all possible ways to meet their requirements in such ways:
Working hand in hand with the client starting from fleshed out concepts to a whole new app.
Satisfy clients by providing incomparable services
Consulting clients if they are confused or not sure what they want and how their app looks like.
Understand every aspect of client and work thoroughly to create a deliverable app.
The team use latest and future technology to cope up if technology changes.
It is indispensable for us to know and examine what the client wants, and how we can portray their needs an requirement under specific period. KBK Business Solution offers the most reliable iOS app development platform that creates high performance, robust, secure and user-friendly iPad/iPhone apps. Our iOS app development process is unique as our developers thoroughly examine every app they develop with no later issues and also supports, help clients even after the project is complete. We believe in making a relationship with our clients.
Our developers keep up with the latest requirements and guidelines, essential for professional iOS app development services, as well as address significant challenges, including:
Cross-device compatibility,
Performance and memory limitations
Battery consumption,
Network speed, etc.
What do we offer as an iOS developer?
iOS Development Services and Consultation
Custom iPhone App Development
iPad App Development
Maintenance and Optimization
App Testing
UI /UX Design
iOS App Porting
Being an iOS development service, we offer testing and consultation of all apps we develop as iOS has strong security
Why KBK as Your iOS developer?
KBK Business Solution is a team of highly trained professionals, who are specialist in their department and known for delivering the project on time with full customer satisfaction. We always believe in providing our clients with end to end IT-enabled services and solutions.
We develop apps for clients in a way to innovate profit and goodwill for their company. At KBK, our team is an expert for delivering uncompromised yet cost-effective iOS and solutions that increase your unique business demand quickly and efficiently.