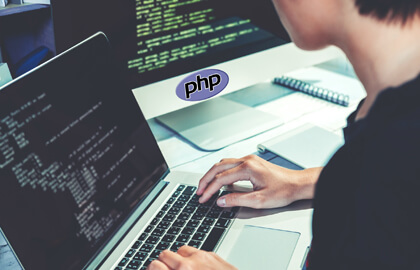 PHP - a supportive framework. That works as the backbone of the website and gives the unique required shape. Earlier when there was no framework to support websites, developers used to spend hours typing codes to make a website, but with PHP, the coding is now minimal.
Now, you can fully control your website and edit whatever you think 'doesn't fit in. KBK Business solutions PHP web development company in Hyderabad has helped a lot of business entrepreneurs to launch a fully operational website without spending too much on it.
KBK Business solutions - regarded as one of the best PHP frameworks for building high-quality elite PHP web development services to all its clients over the world. A handpicked choice for both, developers and clients, we offer rich feature-base that lets developers engineer versatile web applications for more than decades.
KBK Business solutions backed by highly skilled and experienced people to assists the customers in all possible ways, such as following:-
Educating the consumers about the boons of using the PHP framework
Choosing the apt framework, top notch and affordable PHP application framework development for the customer from PHP's expansive list of frameworks
Building business apps for the client KBK best PHP application development company
Supporting and Maintaining post implementation of the business application
It is necessary to know the type of business application that the consumer wants to build before starting the work and suggesting any framework.
Example, if a consumer who wants to make an eCommerce application, then he or she would require the framework that has the in-built libraries along with the proven extensions for trafficking with credit card processing.
Also, the hosting environment has a significant role to play when one has to decide the type of framework to be used.
Example, while some frameworks work best with MySQL, there are others which include libraries for working with key-value and document store databases.
KBK Business solutions PHP development company in Hyderabad and always guided its customers by choosing the right framework for building its business applications.
What do we provide as a PHP developer?
Our PHP services are categorized into three main categories:-
Custom PHP
PHP CMS
PHP Frameworks
We offer our PHP web services for building websites, mobile applications, SEO services, E-commerce website and app, web hosting services.
Why choose us For PHP Development?
We always recommend consumer to explore the various PHP framework service offerings that KBK Business solutions, provides to know which framework would give the best results for their growing business needs.
To have a better idea, do look up the numerous PHP projects that we have carried out for our esteemed customers at custom PHP Projects as well to confirm whether we really fit into your concept of a perfect offshore IT Solutions Partner.