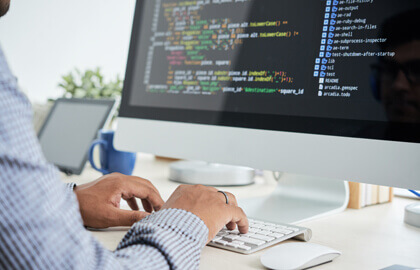 Software Testing & QA has come much later in the development cycle. To explain little further, let's take the example of Waterfall. The software is first produced and passed to the Quality Assurance team for their feedback. Then it is sent back to the development so they can fix the problems.
Software testing company also adds yet another testing called as Automated testing which adds another layer of complexity and this is known as Quality Assurance. QA iz a quality testing process that ensures that an organization delivers the best products or services possible.
Another feature of Software testing services company is QC which is a software engineering process, exclusively used to ensure the quality of the products or services. This being slightly different than QA, QC examines the quality of the end products. The objective of the QC is to ensure that the product design meets the requirements and specifications of the before it is launched for public access.
KBK delivers software testing services and quality assurance services for desktop and mobile applications, to drive quality to your product. Our testing experts' team work directly with you to create an end-to-end process that will operate consistently and rapidly while providing you with full-time support and seamless feedback. Our services are aimed to help you in achieving the quality at speed and guarantee that you have a secure online existence.
Overview about Testing
As there are several Software development companies in Hyderabad each having its own software development models, it becomes most necessary to have a Software testing and quality assurance system that produces every detail about the software.
Test results are much more significant in Quality assurance in software testing. Based on the results. If any of these designs are broken or nom-functioning, they are fixed.
Difference between QA and QC
Quality Assurance (QA)
As quality assurance (QA), quality control (QC) and Testing are equally in use, they are interrelated. Though performing a similar activity, there are few differences that set them different due to the job they do.
Quality Assurance (QA) ensures the process of implementation, procedures and standards in context to verification of developed software with its requirements.
Gives a complete focus on processes instead of conducting actual testing on the system.
Performs process-oriented activities.
Takes care of preventive activities
It is a subset of Software Test Life Cycle (STLC)
Quality Control (QC)
It includes some of the activities to ensure that the verification of a developed software with respect to documented requirements.
Gives focus on actual testing by executing the software with a goal to identify defects and bugs through implementation procedures.
Takes product-oriented activities
It is described as a corrective process
It is a subset of Quality Assurance
Testing
It includes the activities to ensure the identification of errors, bugs and defects in a software.
Gives focus on actual testing
Performs product-oriented activities
Works as a preventive process
It is a subset of Quality Control
Audit and Inspection
Audit is a systematic process to determine how exactly actual testing is done within an organization or by a team. Most commonly it is an independent examination of processes that take place during the testing of a software.
It is the most common documented process that an organization implements and follow. Different types of audits include - Legal Compliance Audit, Internal Audit and System Audit.
Inspection
This is a formal technique of performing formal or informal technical reviews to identify any error or gap. Through inspection, software requirements l, designs or codes are examined in detail by a person or a group apart from author to detect lacking arras, faults, violations of development standards and other problems.
Inspection meetings may include the processes of - planning, overview preparation, inspection meeting, rework and follow-up.
Testing and Debugging
Software testing and debugging being the two most crucial areas for correction, normally professionals with quality assurance expertise are involved in bug identification and testing is performed in the testing phase.
Debugging is about identifying, fixing, isolating the bugs and problems. Those who code the software process the debugging when they encounter an error in the code. With debugging being a part of White Box Testing or Unit Testing, debugging can be performed in the development phase while conducting Unit Testing or in phases while fixing the identified and reported bugs.
What we offer?
End-to-End Testing
Speed to Market
Scalable Process
Passionate & Experienced QA Engineers
Complete Transparency & Control
Expert Support
Focus on Quality
Our test expert engineers work round the clock to discover bugs and errors before the users do.
Why Choose us?
Among Software testing services that are most frequently done, Software testing and quality assurance takes a regular check for every product to be tested in order to make it completely bug free and ready for use.
KBK Business Solution is software testing services company with a team of highly trained professionals, who are specialist in their Start your fantastic testing experience here.
A top-notch software development companies in Hyderabad, we are a highly motivated, results-oriented, and have a passion for continually enhancing our methods and workflows.
We have a team of experts' engineers who are very well-versed in all the standard test types and beyond. Whether the testing functionality, UI, performance, or localisation, conducting security audits or implementing any complex test automation — we got you covered for all!
Having the expertise to carryout the testing quite efficiently, we have come a long way in this model of software service.
Using some of the latest techniques and tools in practice, we will be working on a wide pool of software products to go through the process of testing.
In this phase, we apply all the requirements and necessary phases to make it work for final product to put to use perfectly.
Our technical team are professionally equipped in using the testing tools to test any software product and make it much more effective and efficient.