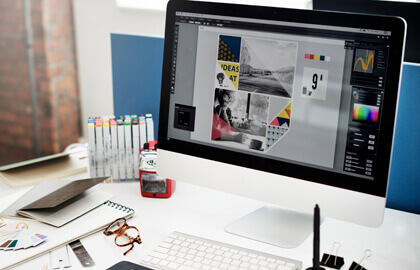 UI and UX – are two different terms that work collectively UI mean User interface and UX means user experience and these both are very crucial to create a product. UX here is more of a technical term, whereas UI is what we refer to graphic design.
We can now save your money, efforts, and time to achieve perfect product development leveraging our conceptual UI/UX Design Services and Solutions. We take our clients on a virtual tour by providing them with a working prototype on what we are working. It helps them in understanding the known and unknown obstacles during the project.
KBK Business Solutions is one of the best UI & UX Development Company and known for creating the best designs as per client's needs and demand. The best quality of our UI & UX Design and Development is clients can refine UI/UX issues, and we let them suggest changes, corrections and get them rectified to meet their needs before starting actual design and development work
At KBK BusinessSolutions we have a bunch of talented peoples who work on different projects and also give a hand to client's to meet their requirements in all possible ways:
Research, Plan and Consultation:
We only handover you the whole project after getting feedback from stakeholders and also we only start a project after receiving their approval.
Our UI & UX specialist creates unique designs as per clients requirements and focus on every important aspects of the project.
Our teams will work in every way to make your potential investors and customers impress with highly interactive proof of content.
Before start working on front end development, our design and developing team will help you in selecting the best technology suitable for your project.
Why Choose Us?
At KBK Business, we bridge the gap between a raw business idea and a fully functional End product. We understand the requirement of your project with a precise understanding of the product, and we create engaging and interactive prototypes. Our speciality lies in the use of our tools; we always use advanced technology to create low reliability as well as highly reliable mobile, and website mock-up designs.
All our mock-up designs are creative, interactive, engaging, and all loaded with UI elements. We document everything right from the start and brainstorm unique ideas and plan before going to development. Design created by our specialist is simple, unique and latest loaded with advanced technology.
What do we provide as a UI and UX developer?
Research & Testing
Experience Design
Interface Design
From End Development
We offer our PHP services for designing and developing websites with the latest technology to meet your needs.
Why Choose us?
KBK Business design and build an innovative, responsive, customer-centred website that significantly improves your customers' digital experience. Our UI/UX designing and development is Effortless, relatable and uncluttered as we follow these principles while creating exceptional UI/UX designs that are responsive and in tandem with the latest design trends.