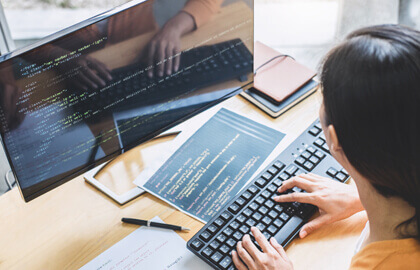 Web application development- It is the process of developing an application for different websites. As technology changes. Web applications are those that can keep you on the upbeat of the IT rhythm by hampering down-times and accelerating productivity.
Get High quality and rich web development at best web Development Company; now you can make your website look, run as you want, we work as per clients' needs and requirements. We work for you as a one-stop custom web development company that enrichesyou with highly customised and robust web development services. Our web development services can procure a great power of communication, flawless documentation, better operational transparency, elevating business productivity, succinct reporting and much more.
KBK Business Solution is one of the most procure and leading web application development company in Hyderabad as we serve high performance and speedy web application that can handle your enterprise's operation better.
At KBK, our team of specialist assist you in every way to make your websites look unique and simple:
Research, Plan and Consultation:
Ensuring successful implementation of client's business strategies and enhancement of their operational excellence.
Using leading-edge technologies to meet requirements.
Utilising cutting edge technologies likeMySQL, PHP, ASP.NET and much more.
Giving a choice for custom web application development.
KBK Business Solution helps clients in knowing what they are looking for their website, and we help them in finding the best and unique web application that works according to their requirements. We also work for Single Page Applications development as it enables us to build rich interfaces that can easily handle the most complicated user interactions. Using technologies like javascript frameworks, we can build fast, responsive, and desktop-like experiences.
What do we provide as a Web Application Developer?
Custom Solutions
Front End Development
Back End Development
Database Development
Applications we create:
Enterprise System
Web portals
E-commerce portals
Industry-specific web applications
Why Choose Us For Web Application Development?
Creating software is a big investment. You need a partner who can translate your vision and your dreams into reality and meaning full impact as this will help your organisation in innovating and grow. When you work with KBK Business Solutions, our team will wholly collaborate with you and your team to know what you are exactly looking forward. We will work together to make your web apps look unique and work the way you want.
We will work as your partner, and you will be in constant communication with our team in every way of web application development. From the raw task to a completed app, you will always be part of our conversation. We understand a thing and only work on things that drive value to you and us both. Our focus is continuously on producing the most value in your own budget.