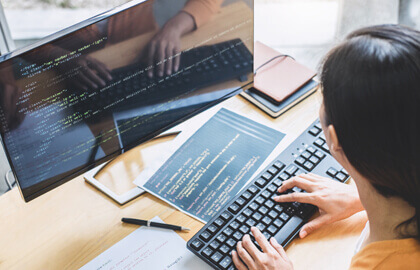 Does your small business need Web application development? Well, there is a lot of practice that is going on in software engineering. Some of the features to look for are - the approach, requirements and the models. The unique characteristics, popular frameworks and business-oriented approach to application development help your business extensively. There are many advanced technologies used in web application development process and these are - Ajax, ASP, ASP.Net, ActionScript, CSS, ColdFusion, CGI, HTML, JAVA, Javascript, Visual LANSA, Lasso, Node.js, OSGI, Perl, PHP, Python, Ruby, Xojo.
In Web application development, there are few agile lifecycle models that are in practice that lay an emphasis on web-based business and these are -
(XP) or Extreme Programming is a software development methodology which is majorly focused on improving software quality and responsiveness to changing customer requirements.
Most popularly known Scrum agile framework model is widely in use for development, delivery, and sustainability to build complex products with major focus on software development.
Timebox development sends a major focus on time management for project management approaches and for personal time management.
Yet another lifecycle model is feature-driven development which is an interative and incremental software development process which is a lightweight or agile method for software development.
Testing
Custom web application development company ensures all web applications to undergo system testing as traditional desktop applications. Some of the major goals of testing are -
To determine whether application is working correctly
Identification of errors that require correction
Testing process of web applications
Web applications have a great deal of information that likely contain - mistakes, omissions, incorrect labels, redundancy etc. Additionally, there are also multilayers of web applications and multiple, dynamic configurations.
It is a complex process of testing to find errors for each layer.
Benefits of Testing
Focused testing without any distractions
Check broken links on your web pages
Check to find out whether all possible test cases targeted on the web app are working properly.
Check how app works in a supportive environment
Ensure high-quality website coming in end-result
Performing a compatibility testing based on the context of application for various devices like notebook, mobile etc., is necessary. This is a software technique exclusive to test the applications that are hosted on the web in which the application interfaces and other functionalities are tested.
Different types of Testing:
Functionality Testing
Usability Testing
Interface Testing
Compatibility Testing
Performance Testing
Security Testing
Usability Testing is done to test the navigation and controls
Content checking
User intuition checking
We address major requirements of web applications from critical point of view as a PHP web application development company to ensure that every element works successfully.
Key Benefits
To share briefly - a web application is a PC program that allows you to sign in to a web address to submit and recover from a web database. These projects are created in HTML, CSS, JS and others. Developed with Web application development software you will notice an improved efficiency with 24/7 accessibility and security. Addditionally, it also brings cross-platform capabilities that easy, simple, customizable and scalable custom web applications made explicitly for your business needs and these are totally adaptable and versatile to your business needs and development.
The benefit of simple installation and maintenance of having programming applications online, you dispense with the need to perform reports on client's work area.
Being cost effective and easy expandability brings an additional asset of programming applications.
Web application development- It is the process of developing an application for different websites. As technology changes. Web applications are those that can keep you on the upbeat of the IT rhythm by hampering down-times and accelerating productivity.
Web application development
It is the process of developing an application for different websites. As technology changes. Web applications are those that can keep you on the upbeat of the IT rhythm by hampering down-times and accelerating productivity.
Get High quality and rich web development at best web Development Company; now you can make your website look, run as you want, we work as per clients' needs and requirements. We work for you as a one-stop custom web development company that enrichesyou with highly customised and robust web development services. Our web development services can procure a great power of communication, flawless documentation, better operational transparency, elevating business productivity, succinct reporting and much more.
KBK Business Solution is one of the most procure and leading web application development company in Hyderabad as we serve high performance and speedy web application that can handle your enterprise's operation better.
At KBK, our team of specialist assist you in every way to make your websites look unique and simple.
Services in web development
Custom SolutionsFront End DevelopmentBack End DevelopmentDatabase Development
Applications we create:
Enterprise System
Web portals
E-commerce portals
Industry-specific web applications
Why Choose us?
The procedure we follow in Web application development process workflow mainly features as a key to success. Implementing some of the best Web application development tools we configure to develop some of the high quality Web application development services for our clients with top in-built capabilities.
Research, Plan and Consultation:Ensuring successful implementation of client's business strategies and enhancement of their operational excellence.Using leading-edge technologies to meet requirements.Utilising cutting edge technologies likeMySQL, PHP, ASP.NET and much more.Giving a choice for custom web application development.
KBK Business Solution helps clients in knowing what they are looking for their website, and we help them in finding the best and unique web application that works according to their requirements. We also work for Single Page Applications development as it enables us to build rich interfaces that can easily handle the most complicated user interactions. Using technologies like javascript frameworks, we can build fast, responsive, and desktop-like experiences.
We aim to deliver higher satisfaction and offer consistent customer support for the product to deliver top performance.